Joey's supports needy families of Natomas Unified students
Akshaj Mehta, Natomas Pacific Pathways Preparatory
March 10, 2023
Joey's Food Locker is a Natomas Unified School District program to serve families in need, operating every Friday. 
"I think it's important for the community because it allows for many people to feed their families when they otherwise wouldn't be able to do so," said Mildred Orellena, a high school senior who volunteers at Joey's Food Locker. Orellena believes more students should volunteer at the food locker, to be able to gain new experiences and personal connections. 
"More students should help at Joey's Food Locker for the experience and new perspective you can gain from it … the people who volunteer with me and all the different and new people I get to meet," said Orellena. 
Simran Shergill, another senior who volunteers her time, agreed. 
"More students should come and help at Joey's Food Locker not only because of their need for volunteers, but also due to the impact students can have on their Natomas community," said Shergill. "Students will not only make new experiences, but it can help them grow and understand the food insecurity issues that reside in our society."
Shergill added, "My favorite part about volunteering is being able to see the impact I have on families in need. Every Friday, the food locker passes out packaged food and hot meals. Being able to see all the families we help makes me feel grateful for my own food and makes me feel like I am actually contributing something good to my community,"
Osvaldo Ortiz, the Community Resource and Outreach Specialist for NUSD, said Natomas can be categorized as a "resource desert" for families in need, and Joey's Food Locker helps to fill that gap. 
"For me, Natomas is a resource desert, (meaning) a lot of the main resources are not accessible," he said. "The fact (is) that Joey's Food Locker is a big benefit for families in need in the district, and the whole Natomas area. We are averaging 300 families per week, (and) 80% are from our area. We (also) serve families from other parts of the county."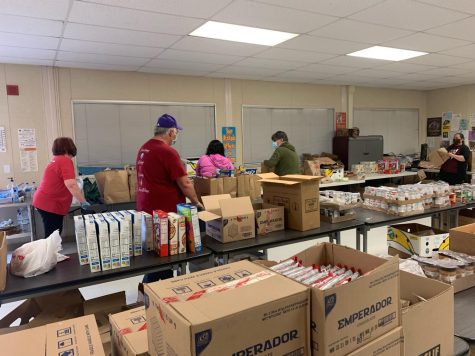 Ortiz said he feels the biggest blessing the food locker gives is that the families feel welcome. "They see you, they thank you, they interact with you, it's a beautiful feeling," he said.
Lisa Kaplan, a former NUSD board member who now represents Natomas on the Sacramento City Council, was instrumental in the creation of Joey's Food Locker. 
"It's one of the things I'm most proud of as a school board member," said Kaplan, who has been active in the program since 2014. "Watching it grow, and the benefit it has to our greater community, one of the things I see every week is the statistics on who we serve."
Kaplan said it's important to maintain an emphasis on youth volunteers at the food locker.
"Seeing youth, whether (it's a) senior project, or community driven," she said, "I am filled with so much hope that this generation has empathy and care, and that (they understand) it's our obligation for the greater good."