Teacher works to help immigrant students adapt
Military background inspiress help for refugeess
A local teacher is working hard to relieve the pressures and stress immigrants to America encounter in his Mira Loma classroom.
Joshua Stinson is an English teacher from Mira Loma High School. His classes are about a third Middle Eastern or from Afghanistan. Stinson says this results in him seeing firsthand the impact of the Taliban taking over Afghanistan.
A global COVID-19 pandemic and the Taliban taking control of Afghanistan at the same time have made it twice as challenging for new immigrant youths from that country.
"For a couple days, it was very disruptive. They were just having a hard time focusing and they wanted to talk about it, like anything major," Stinson said, "It's constantly taking up space in their thoughts and it's constantly affecting their mood, which might change how they act in class, and how much they are being exposed to the lesson."
Wanting to discuss large news that affects relatives and friends is a natural response from any student, said Stinson, regardless of the situation. Stinson said he wanted to focus on nurturing the conversation about what Afghans are going through right now to create a safe place for Afghan students going through a troubling time.
Stinson was able to connect to these students even after just starting the new school year.
He explained that it was because he has "a military background, and a lot of them know about that, they wanted to ask me questions. I saw how much it was affecting them, students who at that point had only known me for 10, 15 days were already wanting to talk about this."
This connection that formed between this English teacher and his students was the driving force that led him to lead a meeting for Afghan students and their families after seeing that the school district was not able to accomplish as much as was needed.
Stinson said the main reason the San Juan Unified School District hasn't done much yet is because "things with Afghans are so fluid. Right when the district tries to make a plan, that plan has been destroyed," Stinson said,
 "The Taliban were not letting anyone out last week, so what can the district do other than trying to identify the students."
Stinson saw the need for education about immigration for Afghan families, and brought it to the attention of other teachers. He held a meeting on August 25th after school to inform Afghan students about how to help their relatives still in Afghanistan.
Stinson's goal for the meeting was to help Afghans who are struggling through the US government system of immigration.
 He brought up the point that "someone who is learning English and who has maybe only been in the country for a few years trying to navigate the bureaucracy of the US government is very hard. Part of [the meeting] was trying to put that into more plain English and showing them exactly which forms and then why they would use those forms."
Stinson also wanted the students and families to know of congressmen and senators who they could email or call to push for the evacuation of Afghans from the Taliban and to safety.
"It's really just trying to give them many ways to make them feel empowered to help the members of their community," Stinson said.
Stinson said the San Juan Unified School District has about 20 students trapped in Afghanistan and are trying to return to the United States who have not yet attended school yet this school year.
In fact, there was even a student on Stinson's roster who was marked absent from school because of COVID, but the school district later discovered that the student was still in Afghanistan.
One Afghan student at Mira Loma High School, Emran Formoli, is going to school every day while being very concerned about his uncle, who is hiding from the Taliban to avoid being hanged because he was a medic for the Afghan military.
"It's sad. It's sad," he said, "There are a lot of people dying every day. People should think about us. This is not something normal. We're all the same people, we are all humans at the end of the day."
Leave a Comment
Donate to Sacramento School Beat
Your donation will support the student journalists of Student Education Reporter program. Your contribution will allow us to hire more student journalists to cover education in the Sacramento region.
About the Contributor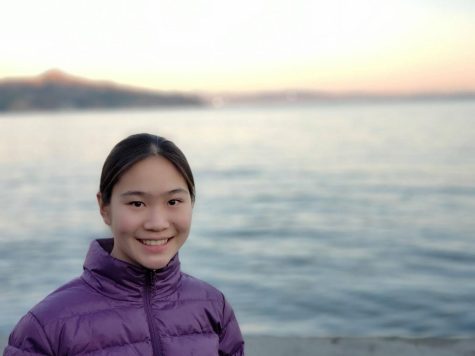 Kayli Huang, Reporter
I'm Kayli Huang, a junior at Mira Loma High School. I love being part of the Student Education Reporter Program as it has given me an outlet to communicate...