Teen helps raise financial support for Ukraine through cookie sales
More stories from Kayli Huang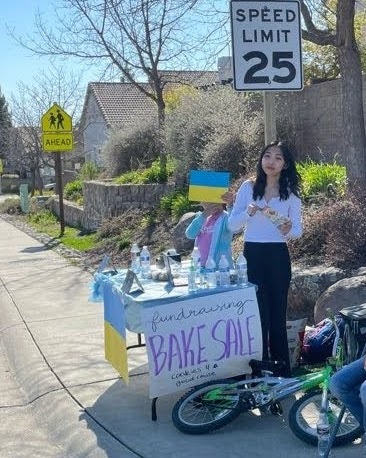 Cheryl Cheng, a junior at Western Sierra Collegiate Academy, started a cookie fundraiser in her neighborhood to raise money for Ukrainians displaced by the conflict.
According to the BBC, Putin claimed that the invasion of Ukraine on February 24th was for the protection of the Russian people against the Ukrainian government through propaganda.
"Launching the invasion on 24 February he told the Russian people his goal was to 'demilitarise and de-Nazify Ukraine', to protect people subjected to what he called eight years of bullying and genocide by Ukraine's government….This was not even a war or invasion, he claimed, merely the fiction of a 'special military operation' that Russian state-controlled media are required to adopt."
However, a month after the start of the war, his goal has shifted to claiming parts of Ukraine as part of Russia while there have been significant casualties from both sides. According to CBS, there could have been as many as 6,000 Russian troops and 4,000 Ukrainian troops were killed in the first two weeks of the conflict. According to the UNHCR, the United Nations High Commissioner for Refugees, over 4.5 million Ukrainians have also been displaced from their homes.
Cheng wanted to start a fundraiser to help the people of Ukraine because she felt that no one should be treated the way that the Ukrainians were because of the conflict that had to do with just a handful of country leaders. She felt that it was cruel for families to be forced to separate for the protection of their country and of their freedom.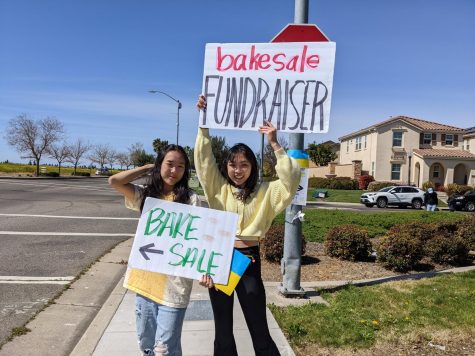 Cheryl Cheng, a junior at Western Sierra Collegiate Academy, and Evelyn Huang, a junior at Granite Bay High School, advertize Cheng's bake sale for Ukraine.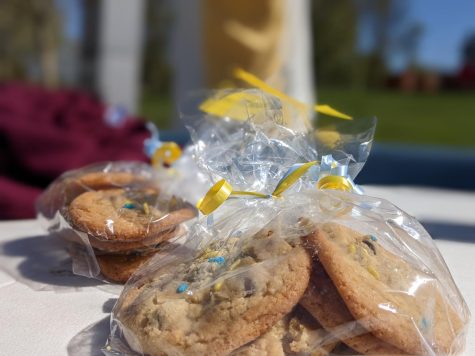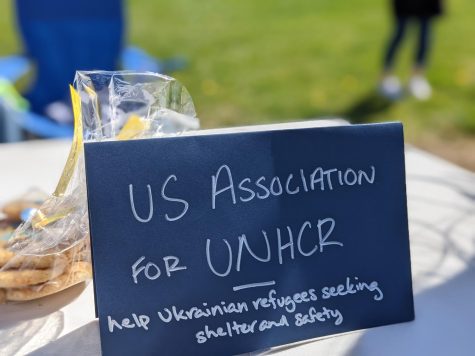 "I had seen and heard the news about everything that was going on in Ukraine and I wanted to be able to do something about it even if it was just something small…Families were being torn apart and separated while young adults were forced to fight in the war to protect their country and fight for their freedom."
To raise money for Ukrainians affected by the conflict, Cheng sold homemade chocolate chip cookies and donated all the sales to the UNHCR.
"I'm selling homemade chocolate chip cookies. Six of them for $5, which all of the proceeds go to the US Association for UNHCR to help all the Ukrainian refugees."
Through her efforts of purchasing ingredients, baking, packaging, planning locations for the bake sale, and organizing the bake sale stand, Cheng was able to raise almost $2,000 to donate to the UNHCR to directly help Ukrainians.
'From the two bake sales alone, we were able to raise about $500 from just selling to people in the neighborhood and on the streets. My dad also helped sell some cookies to his coworkers, earning a total of more than $200, in which my dad will match 100% of that money. My dad's company Experian will also match the total amount from both the bake sales and my dad 100%, meaning that we raised nearly $2,000 total."
However, there were many challenges that Cheng faced with her bakesale. Cheng explained that while it was sometimes hard to be standing at a stand for an entire afternoon without many sales, it was still a joy to interact with so many community members who were also supportive of the Ukrainian community.
"It was definitely hard to get people to stop and buy cookies as most of them are driving fast and usually have somewhere to be. People would look over and sometimes wave, but that didn't necessarily mean that they were going to stop. Despite that, we were still able to get a fair amount of customers and plenty of people who were also just as supportive of the cause."
While those who sympathize with the Ukrainians may not know how they can help, Cheng wants them to know that donations are a simple way to make a big difference. These can take the form of direct donations to an organization, or through bake sales like hers.
"Donations are always the number one way people tend to help in situations like this. What I'm doing myself is donating too, but I suppose with an extra aspect of spreading awareness and bringing about actual action to people through cookies."
Overall, Cheng hopes that she will be able to continue to support causes like the Ukrainian crisis through bake sales to help bring awareness to these events and their effects.
"I'm sure that there would be plenty more opportunities for bake sales and fundraisers of the sort in the near future, so any help in baking or selling cookies would be greatly appreciated!"
ling cookies would be greatly appreciated!
Leave a Comment
Donate to Sacramento School Beat
Your donation will support the student journalists of Student Education Reporter program. Your contribution will allow us to hire more student journalists to cover education in the Sacramento region.