SCUSD teacher strike ends after students lose eight days of instruction
More stories from Dinara Brown
Along with the other members of the Sacramento City Teachers Association, the staff and teachers of C.K. McClatchy High School was on strike 12 school days (March 23 – April 4). Students missed a total of eight days of school.
On their website, https://sacteachers.org/strike-faq-for-our-community/, the Sacramento City Teachers Association posted this about the strike: "We are on strike because every student deserves a teacher in their classroom in a fully staffed school." 
According to an article written for The Prospector, the C. K. McClatchy's school newspaper, by Eleanor Love and Brandon Chan, the strike was due to the district's plan to "cut health benefits, staff positions, the lack of a defined workday, and other district rights."
On their website (https://www.scusd.edu/econnection), the district said that they are, "continuing to work toward a path forward that will allow us to honor and value staff while also making sound financial decisions that safeguard current and future opportunities and services for our students."
Many students were in support of teachers and staff through this time. Some did this through attending the numerous protests over the time of the strike. 
In addition to better benefits, strikers looked to fight the understaffing problem within the district. The SCTA said, "Every single day 3,000 SCUSD students go without even a substitute teacher and nearly 600 students go without any instruction due to the lack of independent study instructors."
"The district has hundreds of millions in federal funds and has had budget surpluses in the last 11 out of 12 years. Instead of spending resources on students by recruiting and maintaining staff, Superintendent Jorge Aguilar and the SCUSD school board have demanded cuts in the average educator's take-home pay of 10,000 per year", said the STCA.
The district's website says, "The pool of qualified substitutes in our area is not sufficient to meet the demand from all school districts in our region," and that, "SCUSD is trying to reach an agreement with SCTA that will allow the district to increase pay for our substitute teachers."
"In its proposal to the SCTA, the district has offered to increase the daily pay rate by 25% for substitutes who filled in for absent teachers during the 2021-22 school year."
In addition to raising wages for substitutes, the district said that they are offering: 100 percent health coverage through Kaiser for all employees (already a current benefit), an ongoing 2 percent salary increase, one time bonuses and three paid days for professional learning.
The SCTA said that "The strike will last until an agreement is reached". 
Parties came to an agreement over the weekend and sent kids back to school the following Monday (April 4).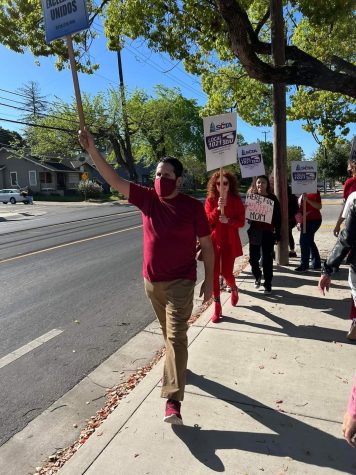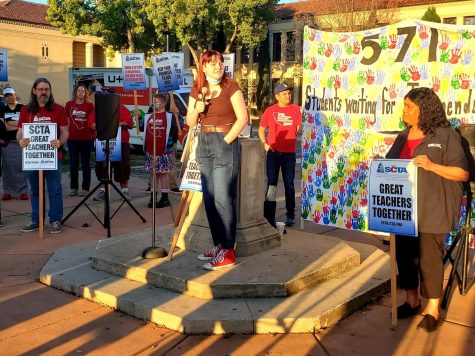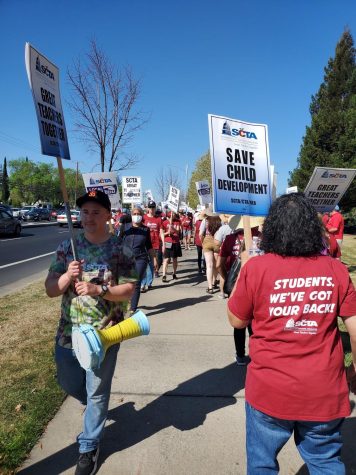 Leave a Comment
Donate to Sacramento School Beat
Your donation will support the student journalists of Student Education Reporter program. Your contribution will allow us to hire more student journalists to cover education in the Sacramento region.
About the Contributor
Dinara Brown, Reporter
I am Dinara Brown, a senior at C.K. McClatchy High School who is interested in acrobatics, fashion, music and having strong opinions.