Controversy over Inderkum High teacher prompts new policy at NP3
The Natomas Pacific Pathways Prep board agreed to a new policy regarding instruction in controversial issues at an Oct. 12 meeting following a controversy over Inderkum High School social studies teacher Gabriel Gipe.
"This new policy was implemented to provide guidance and clarity for staff when teaching controversial issues. Since we have implemented our new social justice course and the current political climate over education is very contentious, we passed this motion since we believe it was important to provide some protection for teachers, and it's important to be proactive on all fronts," said Natomas Pacific Pathways Prep High board student representative Fernando Serratos.
The debate over controversial issues is not only limited to Natomas Pacific Pathways Prep, but also the school district in which the school is in, Natomas Unified has seen its share of discussion regarding controversial issues.
On Aug. 31 a group called Project Veritas released a video featuring Gabriel Gipe, an Inderkum high school teacher who taught an advanced placement government class.
In the video Gipe explained, "I have 180 days to turn them into revolutionaries." He also explained how he would provide extra credit for students who participated in events which he suggested which were related to political activism.
Other controversial pieces of Gipe's teaching were an Antifa flag on the wall as well as a poster of Mao Zedong.
On Sept. 1, the Natomas Unified School District announced that they had placed Gipe on paid leave.
Also on Sept. 1 a regularly scheduled school board meeting took place where during the public comment session there were comments which condemned the actions of Gipe, suggested actions against school officials as well as suggesting criminal charges.
The Natomas Unified School District had to continue the Sept. 1 board meeting on Sept. 14 after the meeting was cut short following a second recess during the public comment session. The Sept. 14 continuation of the meeting was online due to the California Governor's Executive Order N-08-21 which allows for school board meetings to be held online due to COVID-19.
During the Sept. 14 school board meeting there was a continuation of comments against Gipe as well as discussion that some students were being targeted based on the confusion of political ideas.
On Oct. 13 supporters of Gipe's teaching at Inderkum shared how they would like Gipe to be able to return to the classroom.
The current policy for controversial issues in the Natomas Unified School District consists of discussion of issues which provide opportunities for critical thinking, developing tolerance and understanding conflicting viewpoints. Issues which are discussed must have a meaningful relationship to students and can be discussed from multiple sides with facts.
One of the other pieces of the policy is that a teacher does not share a point of view in the classroom to further a religious, political, economic or social bias.
Leave a Comment
Donate to Sacramento School Beat
Your donation will support the student journalists of Student Education Reporter program. Your contribution will allow us to hire more student journalists to cover education in the Sacramento region.
About the Contributor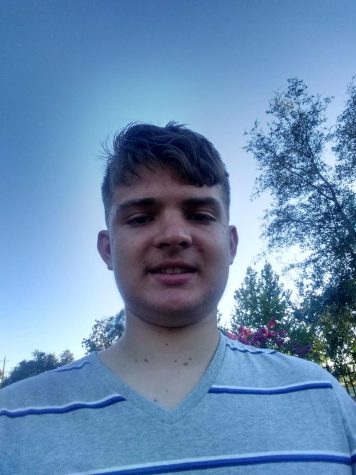 Jack Fedor, Reporter
Jack Fedor attends Natomas Pacific Pathways Preparatory High School in Sacramento.