Cordova High opened in 1963 and graduated the first class of students in 1965. This year, 2023,  marks Cordova High's 60th year.
"For me the 60th anniversary of Cordova was really cool to experience, especially seeing the love and support current students gave to the former students of Cordova." said junior Jasmine Tagubansa.
 Students, faculty and alumni celebrated the school's' anniversary with a number of activities and events built on campus traditions.
"I can see all of the folks who have graduated through Cordova and one thing that's beautiful about the Cordova High community is just how deep-rooted we are in traditions," said Principal Amy Strawn. when thinking back on the first graduating class. 
Story continues below advertisement
To have such traditions that make alumni feel appreciated and celebrated is heartening about Cordova's community, she said.
"To see the alum come back and not necessarily relive their memories, tobe able to tap into that and feel a sense of nostalgia has been really special," said  Strawn.
Even though this is her first year as principal before that she taught at Cordova High. For four years, she served as the International Baccalaureate coordinator so returning  "Wasn't that hard to jump right back into the Lancer way."
In the lead-up to homecoming, students unite and demonstrate support for their school and community by participating in various activities, such as the  spirit dress-up days in the week leading up to homecoming, attending the homecoming football game and accompanying school rally. Students said they have a great time and make lifelong memories during homecoming week.
Anthony Milevsky, a drawing and painting teacher at Cordova High, painted a mural celebrating Cordova's 60th year next to his classroom in D-wing, D4. All of the teachers in the art department who are teaching 2D or 3D design went around and painted windows, but Milevsky said he  "Wanted to do something a little bit larger and maybe a little bit more special because I'm also 60 years old."
In preparing to paint, Milevsky said he wanted "That kind of 60s feel," reminiscing of the peace sign typical of the time."
"I wanted to add more to it because we had a lot of things going on, like civil rights and the President being assassinated. We had a war," Milevsky said.
Milevsky also thought about the Fillmore West (also known as "The Church of Rock and Roll"), which was a popular venue for San Francisco's rock and roll scenes at that time. 
"The rock and roll posters of that era for advertising had this interesting lettering style. One of my students went out and blocked the letters to give it that feel of that lettering style."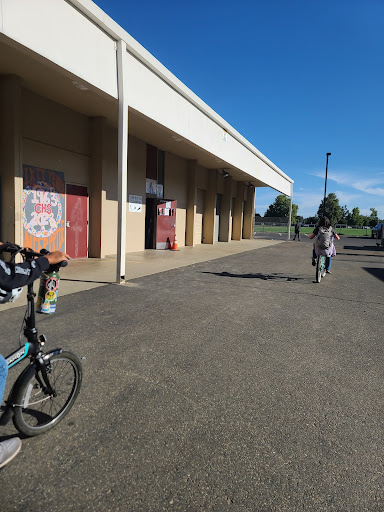 At a school rally before the homecoming football game on October 20, alumni of the original graduating class were invited back to participate. Anyone who graduated from Cordova was invited to an alumni reception that was held before the football game where Cordova played against Natomas High. Cordova lost the contest by 6 points in overtime, 40-34. 
During the game there was an alumni parade where alumni from the first graduating class to the last paraded around the stadium,  Strawn said.
The alumni had a special seating section.
"The alumni section was full. I want to say there were eight in the first graduating class, and some were traveling from really far places, some driving 17 hours from out of state. This meant a lot to them," Strawn said.
The first graduating class had special events planned by the Cordova staff. Each alum was given a shield that had 1965 inscribed on it.  The staff described it as a special moment because when the alumni were in high school, they would pass the shield around if they won rallies.
Peer leadership also conducted a tour of the campus. At the rally for the homecoming football game the staff gave the initial class of graduates a special introduction.
In between the JV and varsity games there was a unique award ceremony with the city of Rancho Cordova where plaques honoring the 1960s alumni for their service to the school and community were presented.
"I thought it was really beautiful and thoughtful that so many alumni got to come back and celebrate Cordova's 60th. It was definitely one of my favorite homecoming celebrations that I have been to and seeing one of the first graduating class who went to the school when it opened and me being someone who is graduating next year was really incredibly special." said junior Calla Webber.
"Alumni cheerleaders were also down on the field cheerleading again," said Strawn.In addition, Cordova High was featured on the KCRA Game of the Week. Watch here on YouTube.