Students in Inderkum High School's Class of 2026 say that the  current updates to the school's athletic facilities have enhanced campus life but doubt other needed improvements will be completed before they graduate.
With Inderkum coming up on its 20th anniversary next year, interviewed students brought up four major concerns: air conditioning, bathrooms, water fountains and building maintenance. 
A voluntary poll taken by Inderkum sophomores revealed 80.9% of students believe these issues won't be addressed before they graduate in 2026. 
The poll highlights bathroom maintenance as the biggest concern on campus.
Story continues below advertisement
Sophomore Zoe Huynh is optimistic about possible updates that would improve bathroom cleanliness. 
"I hope they invest in toilet seat covers for them as they've had conversations about it. Hopefully it's soon," Huynh said.  
Sophomore Tania Khan said fixing the locks in the bathrooms should be the first step.
"There have been multiple times that I have gone to the restroom . . ." she said, "(but because) the locks are broken or missing, other students have had to keep the door closed for one another by pulling on the door from the outside."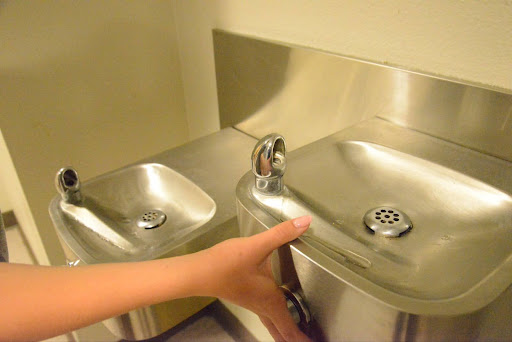 Principle Scott Pitts said Inderkum acts on bathroom issues quickly once reported to staff.
"Damage in the restrooms has been a pretty persistent issue that's happening on a campus . . . something gets damaged and then it gets repaired," he said. "And so as soon as reported, that's a very short term immediate response piece that our maintenance team should be, you know, quickly fixing."
Building upkeep is another major concern at Inderkum. 
"I feel as though the overall quality of this building is on the downhill, and the school has not been focusing on it the year and a half I've been here," said sophomore Owen Provencher.
"The exit sign in the ceiling shows how this school doesn't really worry about the condition of the building and only worries about getting their kids to their classes, nothing else."
A study published on Feb. 1. by Edward Edgerton and Jim McKechnie for the National Institutes of Health titled, "​​The relationship between student's perceptions of their school environment and academic achievement," found that "students' subjective perceptions of their physical school environment are related to academic achievement."
That means if Inderkum students don't feel good about the way their campus looks, their classwork may suffer compared to peers who have more pride in their school.
"When you come in and  if the school is in order, it's clean, and you see our school brand it creates a different atmosphere than if you come in and you see things are torn up and there's trash everywhere," Pitts said. "I think it does go into the morale or to the local climate of the students and how they feel on the campus . . .  which is why you see the big investment going in continually."
Sophomore Clayton Garcia-Menezes said the school's air conditioning has been neglected.
"The greatest upgrade our school could get is improved air conditioning," he said. "In the beginning of the school year it was very hot."
Garcia-Menezes was among the 25.5% of Inderkum sophomores in the poll who noticed the heat issue last year and were continuing to deal with it throughout the summer months. 
A Yale study titled, "Abnormally hot days could impact your cognitive skills," published on June 27, highlighted the importance of proper temperatures in a school setting. During the study, researchers compiled the test results of Chinese students and compared high temperature test days to low temperature ones.
The study found, "A test day average temperature above 32 degrees Celsius (89.6 F) — compared to a day around 22-24 degrees Celsius (71.6 – 75.2 F) — reduced math test scores by . . .  the equivalent of just under a quarter of a year of schooling."
"Our (HVac) system is aging, right?" Pitts said. "And there's a long term plan that they're getting in the near future to try to replace the entire thing, but short term, it's to fix the spots that are the pieces that need to make sure they're functioning right."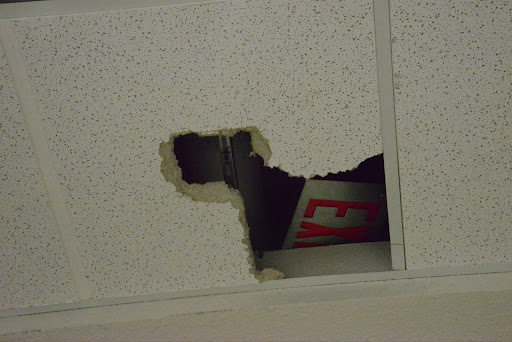 Garcia-Menezes said Inderkum's water and air systems were unreliable and "either barely worked or not at all." He added, "Sometimes I have to walk to further parts of the school just to drink water because the ones (fountains) near my class may not work."
Inderkum student demonstrating one of the non-working water fountains. Notice how the small stream coming out almost makes it look like the facet is leaking.
Garcia-Menezes hopes the district will eventually get around to fixing the water and air conditioning issues, but supports the efforts to upgrade Inderkum's athletic facilities.
"I very much think that the school is heading for the right path as they start updating athletics as it promotes the school," he said.
Pitts acknowledged the importance of school maintenance "for students and staff alike, for everybody, right?" He added, "We want the facility working for them because it has an impact."