The 2023-24 academic year marks the first time high school girls can officially play flag football in California.
Dorothy Godbold, mother of Inderkum High School flag football player Alaysia Godbold, said that over the years high schools have started to offer more to female athletes.
"It has changed drastically," she said. "It seems like there are more opportunities for girls sports." Godbold said when she was growing up "there was only softball and soccer. Now there's basketball, football, etc."
The expansion of sports activities for high school girls can be traced back to Title IX, one result of the civil rights movement. The federal law was passed in 1972 and states, "No person in the United States shall, on the basis of sex, be excluded from participation in, be denied the benefits of, or be subjected to discrimination under any education program or activity receiving Federal financial assistance." 
Story continues below advertisement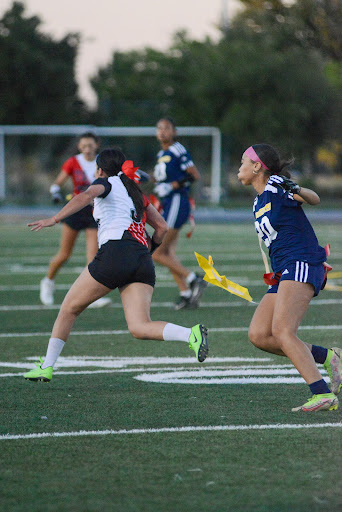 In the view of many experts, Title IX has worked to help lessen the gender gap for student athlete participation.
A 2007 report from Betsey Stevenson of the University of Pennsylvania, titled "Title IX and the Evolution of High School Sports," says Title IX's "applicability to sports has now impacted most young women's lives through its effect on high school sports programs."
In 1972, less than 300,000 girls played high school sports, a fraction of the number of male athletes, the report said. By 2005, this gap shrank, with 3 million female high school athletes compared with 4.2 million male athletes, according to the report. 
The California Interscholastic Federation, in an August 2022 statement, said, "We remain focused on our goals of expanding participation opportunities for girls." 
And in February of this year they did just that, approving the flag football programs.
   Nia Ryan, sophomore at Inderkum High School, Ryan pulls a flag during a heated game with Bella Vista high school. Photo taken at Inderkum High School at 2500 New Market Dr.,September 11. Photo by Olivia Ming
Godbold had questions at first, and worried about her daughter's safety. She wondered, "Is my child going to get hurt? Will it be a coed team? Is this just Inderkum?" 
After her daughter joined, Godbold noticed some benefits. She feels the conditioning involved with flag football enhances Alaysia's physical fitness.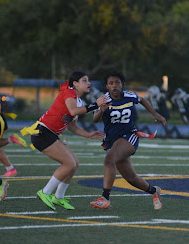 Alaysia Godbold, a junior on the inaugural team for Inderkum, feels the approval of flag football will help her in more ways than one
 "I have played team sports before but never with these people and I have made some great bonds which could stay with me after high school," she said. "I also think football will help with my motivation for school because it is a great reason to keep my grades up." 
Others see the benefit in being a high school athlete.
According to an article titled, "5 Reasons Why High School Sports Benefit Students," by the NYU Dispatch, "Playing team sports can also help greatly with your ability to problem-solve and manage multiple tasks at the same time . . . dedicated athletes have a very well developed set of time management skills."
Kailie Musa, a sophomore on the Inderkum team, said playing flag football has helped instill in her important values.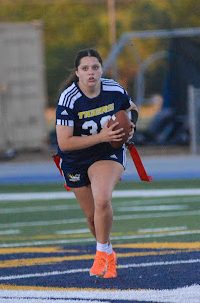 Now I'll understand the importance of collaboration with others,." she said. "It helps me to know the meaning of teamwork and self-discipline. When you put teamwork into practice it allows you to grow and learn new ideas. You're encouraged to think and do better for yourselves."