Music expands student success, person growth and improvement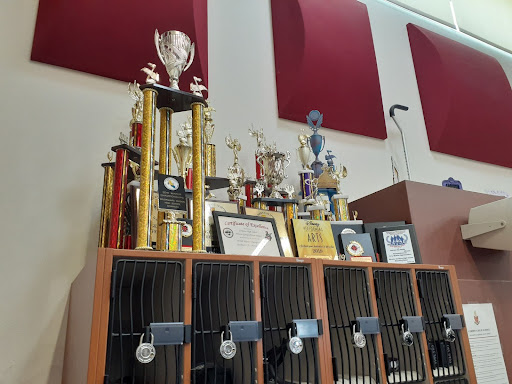 Cordova High School's music programs this year have won more than 30 trophies, making them a significant source of pride for the CHS community.
Kevin Sims, who instructs Jazz Band, Concert Band, Orchestra, and Guitar at CHS, said the awards show the quality of the school's programs, but stressed the main goal is to instill in students discipline, the desire to chase the perfect performance and other positive attributes.
"Music can teach self-discipline, it's always a thing, the desire to get better," Sims said. "It teaches (students) drive, responsibility. When you play in a group, you need to be responsible for your part and how you contribute to that group."
Music is also very personal, he said. The successes students achieve are their own, although someone might have helped them along the way. "So," Sims said, "it's very fulfilling."
Each instructor has their style of teaching students, engaging them in activities and making them prosper. Sims' style of teaching revolves around "unity."
"It starts with unity, like community, and unifying the kids or groups that I'm with, and from there getting them to care about each other," Sims said. "And from there, we start to develop a working relationship."
Music also can help strengthen discipline and mental health, say teachers and students.
"That's what we're seeing now, is that our students are able to persevere through challenges, and where others may run away from things, these students go through the obstacles," Sims said. "Obstacles are created every day because we're human, so music can help us learn how to work, gain good work ethic and continue to repeat something until it gets better and perfected."
According to sophomore Dmitry Goliac, music enables individuals to better experience various emotions, think critically and handle stress.
"Music can be used for relaxation after a hard day's work as well as decrease stress levels," Goliac said.
Cordova High sophomore Jasmine Tagubansa said music is a way for people to bond with others. 
"I believe that music can help individuals accomplish spreading their culture and traditions through the music they produce and can teach others that they are not alone in this world," Tagubansa said.
He added music helps unleash kids' powers of expression and creativity.
"Music teaches children (from an early age) to freely express themselves through any form of music," Tagubansa said, "As well as helping people achieve another level of creativity and passion."
Furthermore, experts like those at Johns Hopkins Medicine point out that music can improve memory, mood, and mental alertness. By listening to new types of music, the experts say, you're challenging your brain in a new way.
"New music challenges the brain in a way that old music doesn't. It might not feel pleasurable at first, but that unfamiliarity forces the brain to struggle to understand the new sound."
(https://www.hopkinsmedicine.org/health/wellness-and-prevention/keep-your-brain-young-with-music#:~:text=Research%20has%20shown%20that%20listening,%2C%20mental%20alertness%2C%20and%20memory)
Experts claim the brain pathways are strengthened when they're used and enfeebled when they're not – and music helps keep the brain's pathways in good shape.
A Harvard University health blog reported that in a 2020 survey, 69% of respondents who were currently going to music performances rated their "brain health" as excellent, "compared to 58% who went in the past and 52% of those who never attended. (https://www.health.harvard.edu/blog/why-is-music-good-for-the-brain-2020100721062)  
Sims concluded that music makes the world a better place.
"What would our world be like if we didn't have the arts?" Sims said. "That's what is great about music is that it takes from all of our masters of the past – from Mozart to Bach to John Coltrane – and then they're creating their own thing of what is meaningful for us now. I can't imagine this world without music."