Book bans spread in schools nationwide–but censorship not a threat at Cordova High
Kay Stout, Cordova High School
October 31, 2022
The large majority of book bans in schools today are not spontaneous but reflect the work of advocacy organizations that have made the censorship of certain books and ideas more frequent than ever before, according to PEN America, a non-profit organization advocating for free expression.
"Book bans in public schools have recurred throughout American history . . . But, while long present, the scope of such censorship has expanded drastically and in unprecedented fashion since the beginning of the 2021–22 school year," PEN said in a Sept. 19, 2022 report titled, "Banned in the USA: The Growing Movement to Censor Books in Schools." 
The report detailed data from Pen America's Index of School Book Bans, which from July 2021 to June 2022 lists 2,532 instances of books being banned, affecting 1,648 unique book titles. The report said PEN America had identified more than 50 organizations that advocated for school book bans across the country.
The level of banning activity varied from state to state in the period covered, the report said. States like Texas and Florida had the most, while California and others had zero.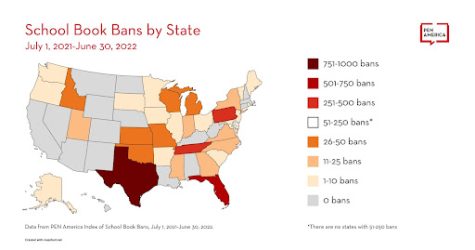 Additional data from the report shows that most of the books that end up being banned deal with subjects related to race, sexual activity, and sexual orientation.
In recent news, book bans have been splattered all over the headlines. 
"I think because we've become a little bit more contentious in society, people are more willing to stand up and argue things that maybe they wouldn't have done in the past," said a Cordova High English teacher who asked not to be identified because of the controversy surrounding the banning of books. 
At Cordova High School though, book bans seem to be less of a problem than in the Midwest.  English teachers at CHS teach some books that have been banned elsewhere, like "Of Mice and Men," by John Steinbeck, and "Black Boy," by Richard Wright.
CHS librarian Laura Sims said, "Kids just check out what they want to check out, or they just don't check (a book out).  I'm not going to tell someone they can't read a book.  I just feel like what's age appropriate, like that's my goal."
Often parents are the ones concerned over the different works students read in schools.
"I think that our staff and community works with the parents, or tries to work with the parents, to make it so that everybody's comfortable with the learning materials," said the English teacher.
She said banned books can help the people who choose to read them.
"I think a lot of the books that do get banned are books that offer differing perspectives on other people's lives and the experiences that other people have.  So having access to those banned books, I think, is an enriching experience for people who get to see how other people might live their lives.  They have the opportunity to get out of their own little box and not just see their own view of the world, but have that opportunity to see how other people view the world too," said the English teacher.
Most students interviewed at Cordova High said they weren't aware of books bans happening on a national level, though they were concerned as to how it would affect Cordova High School.
"I haven't heard about it until now," said sophomore Jailia Vang.
While PEN America reported no book bans in California from July 2021 to June 2022, there were instances in the state prior to that time period. For example, the Burbank Unified School District in 2020 removed five books from its curriculum after four parents challenged them based on their depiction of Blacks. (https://www.latimes.com/entertainment-arts/books/story/2020-11-12/burbank-unified-challenges-books-including-to-kill-a-mockingbird) 
The titles included "To Kill a Mockingbird," by Harper Lee; "Adventures of Huckleberry Finn," by Mark Twain; "The Cay," by Theodore Taylor; "Of Mice and Men," by John Steinbeck; and "Roll of Thunder, Hear My Cry," by Mildred D. Taylor.