It's a student's dream tool but a teacher's worst nightmare: ChatGPT, the artificial intelligence that has caused ripples throughout the education world.
ChatGPT stands for Chat Generative Pre-trained Transformer. It is a website created by OpenAI that allows users to have a conversion with AI. This conversation can lead to the AI writing paragraphs or even full essays.
This website uses online data and websites to produce its responses. A user just has to type a request like, "Write a paragraph about how the U.S. Government works" or, "Explain the backstory of Pi," and they will receive an answer. 
With a few tricks and switches, students can copy and paste something from ChatGPT and claim it as their own. This is known as plagiarism, and most teachers treat it as cheating. 
Story continues below advertisement
ChatGPT started gaining popularity through the social media app TikTok. Videos spread showing students how to write essays in less than one minute. In no time, students started using ChatGPT for classroom assignments.
"I first heard about it actually on a teacher forum and English teacher forum with, you know, mild panic starting to set in about how we are going to handle this in the classroom," said Kelly Moore, an AP Language teacher at West Campus High School.
For some teachers, their fears became real when some of their students started using ChatGPT to write their assignments. 
Two of West Campus English 9 and AP Literature teacher Angela Tran's students were caught using writing papers with AI. Because of this experience, Tran now requires all her students to write major assignments on paper in class.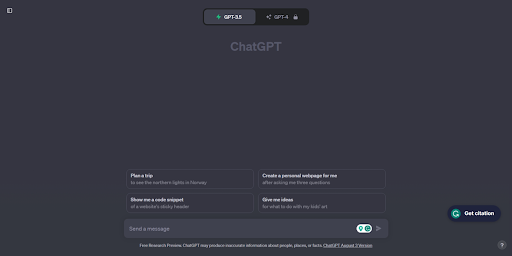 Many teachers at West Campus also use plagiarism checkers to ensure their students are not cheating. In general, teachers explain, verbally or on a syllabus, that if a student is caught cheating, they will face disciplinary action, like getting a zero on an assignment. 
"I'm just tired of people (having) like a transactional approach to education instead of actually learning, and so that's what's frustrating," said Shawna Bell, an English 9 and Honors English 10 teacher at West Campus. 
Some West Campus students agree that using ChatGPT at school is just straight-out cheating and should not be allowed in classrooms. 
"I don't think ChatGPT is necessarily that bad as a whole, but since using it can plagiarize, it is bad in a classroom setting," said Ziqi Lin, a junior at West Campus. She said students should find their own resources instead of relying on AI to do the work for them.
"I think it's fair for teachers to have policies and presumptions that their students are using AI," said Ariel Lao, a sophomore at West Campus. "AI affects not only the teachers' grading but the other students in the classroom."
Added Gracie Miller Segura, a senior at West Campus, "With the rise of AI, it's really difficult to tell when somebody is being genuine with their work."
ChatGPT has generated concerns not just at the high school level, but among college students and professors as well. A study of college students by Study.com found:
"48% of students surveyed admitted to using ChatGPT for an at-home test or quiz."

"53% had written an essay, and 22% had written an outline for a paper" using ChatGPT.

"72% of college students believe that ChatGPT should be banned from their college's network. (New York, Seattle, and Los Angeles have all blocked the service from their public school networks)"

"82% of college professors are aware of ChatGPT."

"72% of college professors who are aware of ChatGPT are concerned about its impact on cheating."

"Over a third (34%) of all educators believe that ChatGPT should be banned in schools and universities, while 66% support students having access to it."
Despite students using ChatGPT to simply cheat and get out of the work, some teachers and students say the resource can bring positives outside of the classroom. 
"It can . . . be also a useful resource for looking up certain facts and resources because you could also type a topic and it would give a few articles," said Miller Segura. 
Tran said AI can help students write letters, emails and resumes. This can benefit individuals who need to learn how to create these kinds of workforce writing pieces.
"I think (ChatGPT) could be used, like, as a prewriting tool or initial research or even to study bias because there are a lot of biases in AI, which I find interesting," said Bell. 
Moore said that AI is not going away, and teachers and students need to make sure it's used properly. 
"AI is evolving and being developed," she said. "I don't think it's realistic to tell students never to use it because, in the world, they're going to be using this. It's a tool and we need to learn how to use it." 
EXAMPLE of work generated by ChatGPT AI:
Prompt: "Write a paragraph about how global warming has affected our planet."
ChatGPT's answer: 
"Global warming, driven primarily by the escalating levels of greenhouse gasses in the Earth's atmosphere, has inflicted profound and far-reaching impacts on our planet. Rising temperatures have accelerated the melting of polar ice caps and glaciers, causing sea levels to surge and imperiling coastal communities. Extreme weather events, such as hurricanes, droughts, and wildfires, have become more frequent and intense, wreaking havoc on ecosystems and human settlements alike. Biodiversity loss is on the rise as habitats shift or disappear altogether, threatening countless species with extinction. Moreover, global warming has disrupted agriculture, water resources, and human health, posing formidable challenges to food security and public well-being. It is an urgent global crisis, underscoring the pressing need for concerted efforts to mitigate emissions and adapt to the inevitable changes already underway."