The new 5 Star Students app is making a big impact at Cosumnes Oaks High School, but some students are wondering about the app's usefulness.

According to 5 Star's website, the app allows students to view point totals, rewards, activities, events, class points and more. With the app, the website says, students can also access eligible surveys and voting polls, get school news and notifications, and even self check-in to events.
Cosumnes Oaks, like a growing number of schools across California, expects the 5 Star app to be installed on the phones of all students.
Zachary Cheney, the new Cosumnes Oaks principal, said he believes the app is beneficial.
Story continues below advertisement
"I believe it's going to be a huge change for our school, a good one," he said.
However, some students say the 5 Star app is either unnecessary or unhelpful. 
Aubrina Gomez, a sophomore, said, "Teachers tell us constantly how phones should not be used in class, brought to the restroom, or used during instructional time. So why are we using our phones when we can just use our Chromebooks they provide us with?"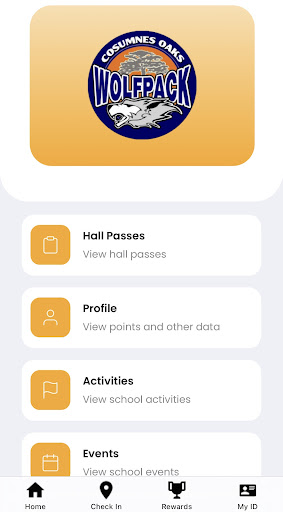 Aniyha Pierce, a junior, said, "How do they expect us to keep our phones charged and in no danger of distraction if they're asking us to use it with every daily task?"
A teacher assistant from last school year, Alex Reynolds, said the 5 Star app can benefit schools by addressing the problem of stolen hall passes. He noted he was one of the many hall pass creators who were spending time editing and sending out hall passes, just for them to be stolen.
Last school year, 34 physical hall passes were pocketed and stolen, allowing students to leave class with no questions asked.
"It was getting hard to keep printing and laminating labels because we were wasting material," Reynolds said.
The 5 Star app prevents this theft because hall passes, and when they expire, are tracked online.
The app also tracks the time students spend outside of classrooms between periods. When leaving class, students scan a QR code, and take no longer than ten minutes outside of class. The app sends an alert once it's time for students to join their next class.
Parents have their own views about the app.
Tiffany Knox, a parent of a sophomore attending Cosumnes Oaks, said she has a bad feeling about the app, and questions its benefits.
"For years things have been done without a phone at school," she said. "Students should really only need their phone for photos, and to call home. I think using a phone as a hall pass will only cause more distraction issues. Do they really need more phone attention at school?"