Agriculture, demographics result in disproportionate Hispanic enrollment in Galt Joint Union High School District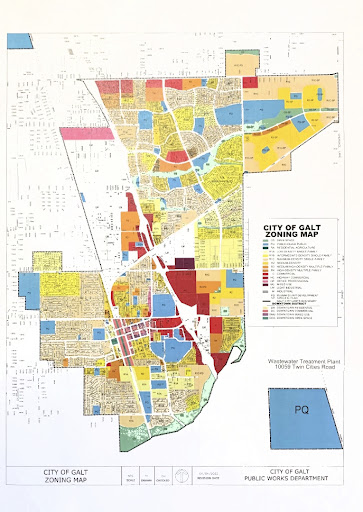 The City of Galt has a fairly even number of Hispanics-Latino and white residents. However, the student demographics of the Galt Joint Union High School District show a much higher percentage of Hispanic-Latino students. 
According to the U.S. Census Bureau's 2020 census, 47% of the residents of Galt are white, as opposed to 43% who identify as Hispanic/Latino. Galt's Hispanic-Latino ratio is higher than Sacramento County's, which is 24.4%.
Galt has a higher proportion of Hispanics residents primarily because of its proximity to agricultural work, said the City of Galt's Community Development director Craig Hoffman.
"And while the rest of the county has experienced strong residential growth, Galt has remained comparatively small and more closely connected to agricultural activity in San Joaquin County (and) in this portion of Sacramento County," Hoffman said.
According to a city report published almost a year ago, lower housing costs in the community attract lower-income households – and that's particularly true for those of Hispanic origin.
But while the percentage of Hispanic-Latino residents in Galt is higher than the county as a whole, the city is still fairly equal in its split between Hispanic-Latinos and whites. However, data shows that Hispanic-Latino students make up a disproportionately larger share of the school district's enrollment compared to whites.
According to 2021-22 enrollment data from the California Department of Education, the Galt Joint Union High School District has a student population of 30.2% white and 60.9% Hispanic/Latino.
Part of the issue is the structuring of the district itself, said Director of Educational Services Sean Duncan.
"Many districts in California are called unified districts (because) . . . the elementary, the middle school and the high schools are all part of the same district," Duncan said. "Like San Juan Unified or Elk Grove Unified – all of (the schools in those communities) belong to the same district. Here in Galt and in many small towns across California, the elementary districts are separated based on local area, and they all feed into a larger high school that covers a broad area."
The district structure affects the demographics of the students who end up enrolling, Duncan said. There are four different elementary feeder districts whose students end up attending high school in the Galt Union High School District, and those feeder elementary districts include more rural areas outside of the City of Galt, which adds to the high school's district's Hispanic-Latino population.
The age of Galt's residents also could help explain the high school district's racial-ethnic composition. If white residents are on average older than Hispanic-Latino students, this would mean that more of Galt's white residents have already gone through the school system or had kids that have already graduated, while Hispanic-Latino residents have younger kids that have yet to graduate.
The overall population of Galt citizens is older on average, said Galt city manager Lorenzo Hines Jr.
"That's the scariest statistic for me," Hines said. "Twenty-four percent – a quarter – of our folks are over 55."
White residents in Galt are, on average, older than Hispanic-Latino residents. 
According to City-Data.com, the median age of white Galt residents is 36.3 years old, while the median age for Hispanic-Latino residents is 29.6.
Overall, the district and its demographics remain an extension of the people of the city, Duncan said.
"It's just political, honestly," Duncan said. "In order to make the move from a union district, which is what we are, to a unified district like Elk Grove, generally you need a lot of people to make that transition to drive it. So as a small town, it's just near impossible for us to do that.
"People want a say in how their schools, especially their elementary schools, are run. And, you know, they have that right in this country. And that's just the way it is."