Galt Joint Union school board votes to eliminate German courses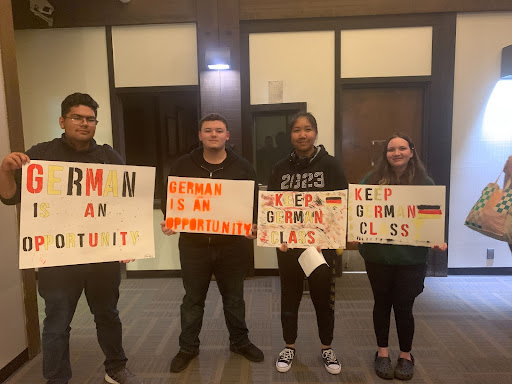 The Galt Joint Union High School District school board recently made the decision to eliminate all German course offerings during a round of budget cuts, and many members of the Galt community are opposed to the move.
Many students came forward to express their disappointment with the decision at a Mar. 16 school board meeting.
"Why make the decision to stop the ability of the German program – money, numbers of students taking the classes, whatever that reason may be, don't you have the obligation to serve the minority as well as the majority?" said Galt High senior Adam Miller. "Besides, no one has a crystal ball and can say with 100% certainty that future students would not want German. … Think of the years to come, and how the quality of education will be offered in a small (German) class versus an overcrowded Spanish class."
The budget decisions that will eventually eliminate German came because of a change in enrollment, said Board of Trustees president Melissa Neuburger.
"When Liberty Ranch (High School) was developed, we had (an) enrollment of approximately 2,500 students," Neuberger said. "Enrollment now stands at approximately 1,900 students with even fewer projected for next year. To match the reduction in funding due to (the) decline in student enrollment, it was necessary for us to adjust the programs we offer and how we offer them. 
"The programs that were selected for realignment or reduction were either moved back to an after-school program model, or sections were combined, or offerings will be phased out over time to allow students to complete required course sequences."
For German specifically, this means that all courses won't be eliminated immediately, Neuburger said.
"We would offer enough sections over the following years to ensure that students can complete the two years of required foreign language, however, we will not offer it up as an option to students seeking to begin courses in German," she said. "We are working within the school enrollment and funding limitations to provide students with as many opportunities as possible."
While Neuberger said the school board is sympathetic to community and faculty concerns, Galt High German teacher Maria Sanders said the decision still feels very insensitive.
"One of my first thoughts was, I always kind of felt like this job and this opportunity was too good to be true," Sanders said. "My second thought was just how heartbreaking it is. And how sad it is. And the more I thought about it, the more I realized it breaks my heart because it seems like we only care about the majority. We don't care about the minorities, which is not a very 2023 attitude."
The decision also ignores the fundamentals of education, Sanders said.
"It also shows me that I feel like we are just looking at numbers," Sanders said. "But education is not just about numbers. It's about people. It's about the students. I also feel like just the message it sends to our students is like you're never going to be intellectually curious enough to make this program worthwhile."
Liberty Ranch High School German teacher Kelley Gecik said at the school board meeting the decision doesn't reflect well on the district.
"The German program has always fluctuated in size over its many decades … now our students will have no other choice than to take Spanish while students in other districts retain options," Gecik said. "Elk Grove students can choose from four different languages, while Lodi offers five. It does not reflect well at all that we cannot offer two."
Diminishing the number of language courses offered not only hurts students who want to learn German but Spanish-speaking students as well, Gecik said.
"Cutting the German program raises the issue of inequity because it is ignoring the needs of our bilingual Spanish-English students," Gecik said. "The experience of learning a brand new language is much different than starting with a language they already speak. Furthermore, students who are already fluent in English and Spanish are not being given the opportunity of becoming multilingual since there will be no other options."
Above everything else, this decision affects future students' choices, Galt High senior Sam Yong told the board at the Mar. 16 meeting.
"I learned so much about the German culture, the holidays and my favorite part, the love of food," Yong said. "Learning about Germany was an amazing experience, and for that opportunity to be taken away from underclassmen is beyond unacceptable. I want the future students to have that opportunity to experience that curiosity and interact with their peers in a language that is not common to them. You're . . . putting us into a corner where we don't have a choice in what we want in our education. It may not matter to many, but it most definitely matters to us in the community. It matters to our future. Don't take our options from us."
The decision to cut the German program ultimately will do more harm than good, Sanders said at the school board meeting.
"Let's see some bright futures grow in Galt by offering them options," Sanders said. "Because even one other language is an option and when students are told what to take, they resent it. To put them all in Spanish is to decrease the value of the Spanish classes because you will also have students who really don't want that, and having kids in a class that don't want to be there harms the educational value of the class for the students who do want to be there."
The decision also dishonors the legacy of the city itself, Sanders told the board.
"Finally, I would ask you to remember that Galt has a long history of German all the way back to our founders. By cutting this program, you sever ties with our past while simultaneously crushing some futures."