Alair-Saito creates a world of engaging fun for advanced placement students
Whether it's using SpongeBob to represent labor unions or the breakup of Asher and Melissa (a fictional teen drama prompt) to explain Document-Based Questions, Alair-Saito incorporates connections for better comprehension.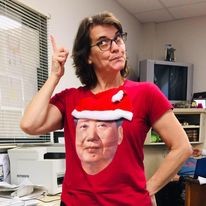 Teaching one of the most rigorous and challenging Advanced Placement courses is one challenge but making it fun and engaging for 15-year-olds is another. Allison Alair-Saito does both for sophomores at Rosemont High School.
Alair-Saito teaches both AP and regular World History at Rosemont. Her AP section is the first advanced placement course sophomores are allowed to take. In the AP/Honors program LEAD,  Alair-Saito's class is like a rite of passage for sophomores.
"These are complicated economic and historical development concepts but if I can see it in my head, I can understand it," said Alair-Saito. "I look at myself as a translator, translating something that I understand, since history is a foreign language in a way I'm trying to get someone who doesn't speak history to speak history by making connections, singing, dancing, acting, and lots of pictures and videos."
With a 60.2% test passing rate, the AP World History curriculum follows the economic, cultural, political, and social developments of the globe from 1200 CE to the present. For students, it's a broader, big-picture course of study, rather than an in-depth, detail-oriented class.
"The challenge everyday is to help the kids make a connection, usually with cartoons, for these complex things like economics, industrial revolution, unions and strikes," said Alair-Saito. "If it's strictly academic and boring, what's the point of understanding it?" 
Whether it's using SpongeBob to represent labor unions or the breakup of Asher and Melissa (a fictional teen drama prompt) to explain Document-Based Questions, Alair-Saito incorporates connections for better comprehension.
"It's a marathon, with the test date as our finish line, and my job is to prepare kids on How to AP, not just learn world history but set them up so when they take their next AP course . . ." said Alair-Saito. "All the pain and suffering is done in their first year."
According to an RHS Teacher Superlatives survey, a majority of students say Alair-Saito is the teacher with the most school spirit. From leading a TikTok dance with faculty at rallies to going all-out during spirit week, she embodies it through the way she dresses and participates.
"I loved high school. Those were the best four years of my life," said Alair-Saito. "I think if you are grumpy and sad like an Eeyore or Squidward for your whole life, it must be torturous. If you're not having fun, then what's the point?"
"I love to see other people smile and react…I'm over the top but otherwise I think life would be very boring," said Alair-Saito. "My life quote is, 'It is my responsibilities not myself that I must take seriously.' I don't take myself seriously at all. So I can dress up and look silly but I take my responsibility of teaching teenagers very seriously." 
These values and learning objectives go hand in hand with teaching the course, Alair-Saito said. But she noted her passion is rooted in her life experiences. 
"I've taught it (AP World) since 2015, I really love it because I'm a career switcher… I've worked for high-tech Japanese companies but also lived and traveled all over the world," she said. "It's about bringing those real-life experiences back to the classroom while figuring out what they already know and how I can plug things in so they get the big picture of global business, economics and history."
One of the many stories Alair-Saito carries with her is about her fight against breast cancer. By always styling various pieces of awareness clothing and even dressing up as a "Cancer Superhero," every year she tells the story of how she wasn't a survivor of cancer, but a warrior.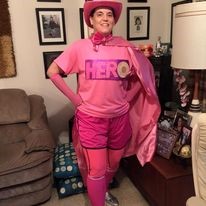 "I was diagnosed with cancer my first year at Rosemont at 49 years old," said Alair-Saito. "Just completely shocked. There's no cancer in my family at all."
She talks about how during this difficult time she made a costume to wear to school that some may find silly, but others find empowering.
"After my surgeries, it was Superhero Spirit Day. Dressing up and costumes is my thing. So it was very cathartic," said Alair-Saito. "There I was from scratch, figuring out how to make a breast cancer superhero costume in my living room, ironing and sewing and a lot of crying."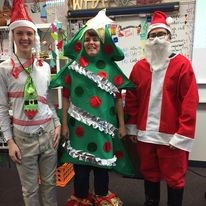 Alair-Saito shares with her students how she was affected by the aftermath of surgery, radiation and the medication Tamoxifen. She still endures the effects of the Tamoxifen that attacked her connective tissues and required her to have total hip replacement.
"It helped me explain a complicated situation to the kids so they wouldn't be scared but also so they understand that sometimes I'm not feeling that well or I'm a little bit off," said Alair-Saito. "I'm a very positive person, and it's difficult when you're going through it, but just continue to be focused on the future and know you're going to feel better." 
Alair-Saito added: "This helps them to understand that everybody is going through something. People are walking around with all kinds of heavy burdens and you never know from looking at someone."