Matsuyama Elementary keeps only district spelling bee tradition alive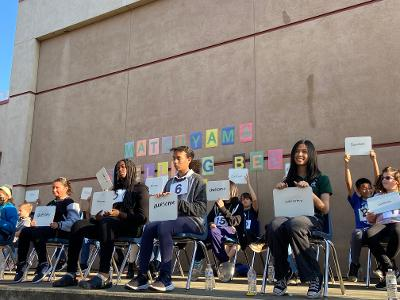 Kaili Jiang, John F. Kennedy High School
February 12, 2023
On a sunny afternoon on Jan. 26, Matsuyama Elementary School held its fifth annual spelling bee under different configurations than what's customary, still keeping an age-old event of spelling bees alive and improving students' vocabulary at the same time. See if you can spell along. (All words in bold were used in the spelling bee finals if you would like to test your peers verbally)
As one of the first steps to competing in the Scripps National Spelling Bee, an annual not-for-profit bee in Washington, D.C., the Matsuyama event is the only school spelling bee in the Sacramento City Unified School District. Despite the minimal knowledge about it district-wide, nearly 100 students in grades 1-6 turned out for the competition.
"All the kids who participated did it voluntarily," said Sue Ping Jiang, coordinator of all five spelling bees that have taken place at Matsuyama, starting in 2018. "They're not doing it for a grade or to earn extra credit, they just want to try something new that tests their knowledge in spelling and vocabulary. Other schools make participation in the bee mandatory, but not Matsuyama. That really speaks to the dedication of students here at our school."
The growing interest and turnout of students are always encouraged by teachers, parents, fellow students, and principals. 
"It helps a few of the kids that want to do it, but I hope that it'll eventually become such a big deal here that you'll see kids walking around with a list of words and testing each other, and I hope it grows to that," said Judy Farina, the retired Matsuyama principal, and a former spelling bee pronouncer.
The first round, which consisted of a written spelling test, showed words on the easier side, such as "look" or "rice." The later rounds presented more challenging words, including "bruised" or "interesting" and even "mausoleum." Despite the increased difficulty, students joined the party, where 29 remained and advanced to the next round, which meant even more studying and preparation for the spelling bee finals. 
Students took different approaches to get ready for the final bee. Some students might not have even studied, while others took the competition very seriously and showed innovative ways of preparation. 
"Initially from the paper that they gave everyone to study, I went through and highlighted words that I thought she might struggle with and needed to practice, so I highlighted those words first," said Juanita Butler, whose daughter Aniya Moye won this year's championship.  "I had her write the words, like five times each, so she could get familiar with them because I told her, 'I'm not sure who will be voicing or announcing the words, what if they have an accent?' So you have to be kind of familiar with what the word is so you don't get thrown off with how it sounds."

Teachers also would copy strategies similar to this as a way to help their students during school. 
"I didn't offer any incentives, but I did offer to spend recess over the past two weeks to practice and talk about strategies," said Mike Mullen, a sixth-grade teacher with six students in the bee. "Four to five students took advantage of my offer."
In the final round of the Matsuyama bee, spellers were given personal whiteboards and a dry-erase marker so the bee would proceed more quickly and better follow COVID guidelines that were set last year. Since the 2021 bee, the written technique has pioneered a new way of conducting spelling competitions.
"Thanks to the Omicron surge in 2022, we were able to modify our spelling bee format to make it as safe as possible for our spellers, volunteers, and friends and family in the audience," said Jiang, the bee coordinator. "Rather than a traditional oral bee where each speller said their word out loud to the judges through a shared microphone, we opted to have the spellers spell their words on a personal whiteboard for the judges to see and run the bee in a knockout format."

For spellers, this version of the bee allowed the spellers to feel the excitement and exhilaration of the competition on stage but without having to stand up in front of everyone and spell words out loud, reducing the element of stage fright.
"I felt really excited at first, and then when I got up on stage I got a lot more nervous," said Moye.
Her mother wanted to prevent her daughter's confidence in her spelling abilities from being counterfeit, so she gave her some advice in coping with the nervousness before the bee. 
"I told her, 'You got this,' to be confident and to take a breath because I knew that her spelling abilities are there, but I didn't want her nerves to get to her," Butler said. 
Spelling abilities also seem to come from reading at a younger age, not when you add technology and less reading, spelling skills seem to ooze away like serum separating from blood. 
"People are becoming worse spellers due to technology providing predictive spelling and autocorrection, and children preferring electronic devices over books," Jiang said. "At Matsuyama, we wanted to break the trend of bad spelling by bringing back the old school tradition of the spelling bee."
Reading and spelling together have a positive impact when students participate in spelling bees and on their overall vocabulary, which continues to grow and spread like conifers when learning with others.
"Aniya's always been an avid reader, she read very early, like she literally was like 4, reading books," Butler said. "I do think it engages them to give them more confidence, and self-esteem, and they feel that they are capable."
Spelling bees like these also give students opportunities over the long run.
"The PTA wants to make sure the kids at Matsuyama have all the opportunities at success as possible," said Nicole Keller, the Parent Teacher Association president. "So one of our priorities was sponsoring programs like the spelling bee and ensuring all the students would have books in their hands, through book giveaways. Reading is so important, not just for the school and the bee, but for their entire futures and their lives ahead."
Even those who aren't old enough to participate in the bee were inspired by their friends or siblings who entered, leaving some heartwarming memories.
"He's only in kindergarten, but after seeing (third-grader) Dustin's experience with the bee, (kindergartener) Skylar looks up to him as an 'expert,'" Keller said of her two children. "And when they watch TV together and words come on the screen, he'll turn to Dustin and ask him 'what does that spell?' It's really cute and rewarding to see that happen." 
For parents, their children don't have to win to be awesome, just as long as they put in the effort and try their best.
"It was important to me that she did her best, the fact that she made it to the finals, and that she took the initiative to try out," said Butler. "And she did try to do it in first grade but didn't make it past the first round, so I was happy that she went back and did it on her own." 
The bee is a nice change of pace, as students are normally more competitive physically than intellectually.
"Students have a chance to compete in something that wasn't athletic," said Nicole Cannady, whose daughter Hope participated in the bee this year, "and use more brain power than athletic or physical skills."