Student initiative results in West Campus buildings adorned with murals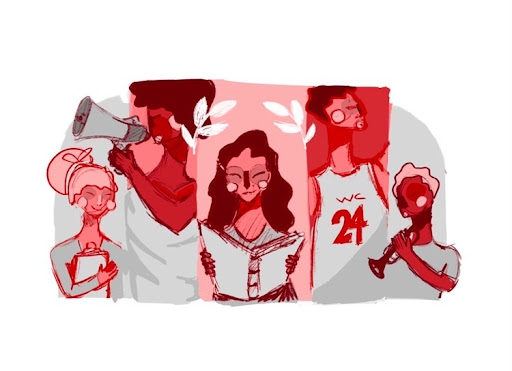 One West Campus High student noticed a dullness within his school's halls and decided they needed a makeover.
Gus Mitchell, a senior at West Campus, gathered a group of student artists to paint a collection of murals around the school. 
"I just thought West needed a campus that accurately reflects its students and culture," Mitchell said. 
Mitchell has been involved with West Campus' student government program for the past four years, in which he became familiar with the high level of creativity and school spirit possessed by the student body. 
"Classes go all out on posters and decorations during rallies – I think that spirit should be shown year round, not just on special occasions," he said.
Kelly Moore, an English teacher and the ASB adviser, recalled the decor of the campus when she first arrived to teach at the school. 
"There used to be tons of art lining the walls, but it had to be covered up per district guidelines," Moore said. 
When Mitchell approached her with his idea, she said she was thrilled. 
"Art holds a lot of sentiment for West Campus, and I'm glad to see that coming back," she said.
Mitchell enlisted a total of six artists from different grade levels, one of them being class of 2022 graduate Aidan O'Brien. 
"I thought it was a really cool opportunity to do something meaningful and creative," O'Brien said.
O'Brien's mural includes geometric designs of various extracurriculars. 
"The significance of the mural is to show the different aspects of student life," he said, "… and my experiences as a student over the last four years."
Another artist, 2022 graduate Emilia Flores, said she was "not a big fan" of her alma mater's campus, comparing it to other local high schools which have campus art that is "so much more fun to look at," as opposed to West's "bland and boring campus."
Flores' mural is a depiction of her Mexican culture, to "remind students to be proud of where they came from. … Additionally it's just really cool to have art from the kids featured on the walls," she said. "I think it really helps unify the school."
While the project is still underway, Flores described her excitement for her younger sister, an incoming freshman at West Campus High, to experience the school in a "much more beautiful state."
"I hope that this project begins a larger effort to beautify West Campus," she said, "to make the school desirable not just for academics, but for the campus and the art and culture it displays."
The muralists have worked tirelessly over the summer, painting and priming for students to return to a more colorful campus in the fall. 
"They look great so far," Mitchell said, "I can't wait to see how it turns out."
Leave a Comment
Donate to Sacramento School Beat
Your donation will support the student journalists of Student Education Reporter program. Your contribution will allow us to hire more student journalists to cover education in the Sacramento region.