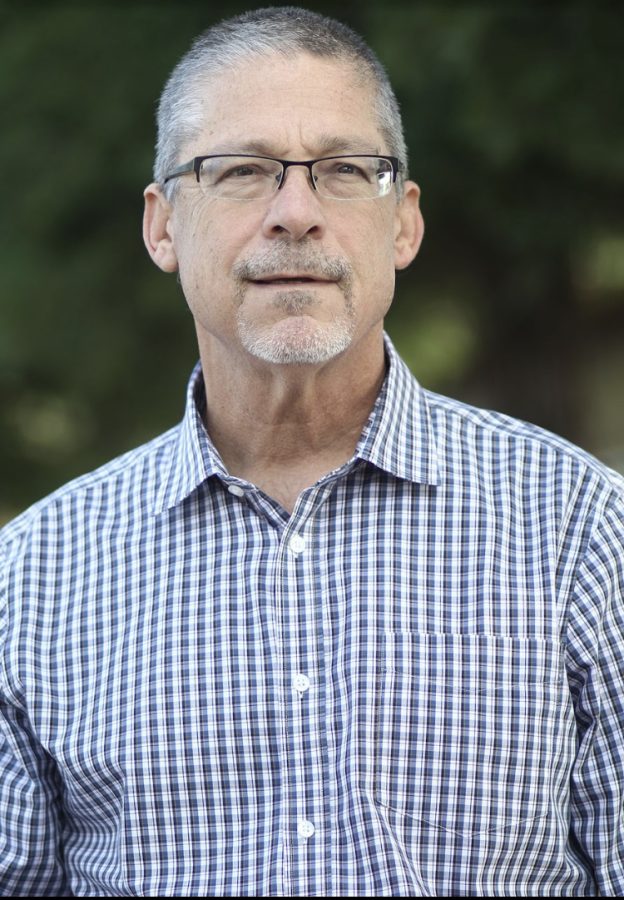 A huge loss for education and community: Casey Nichols, renowned teacher and mentor, succumbs to Covid-19
Roseville native and long-time Rocklin educator excelled at teaching and inspiring generations of students and teachers
February 11, 2022
Casey Nichols, 67, a Roseville native who rose to national prominence as a journalism adviser, yearbook guru and frequent speaker at national and regional journalism education workshops and trainings, passed away in early  February from complications of Covid-19 and autoimmune disease.
Nichols was the webmaster for Sacramento School Beat and an instructor for the program's summer training program.
Nichols taught at Sierra College, mentored new journalism teachers, consulted and advised school yearbook programs, was an adult adviser to Sacramento School Beat, a program training high school students to be education reporters, and produced and maintained its website at https://sacschoolbeat.com/.  He did similar for CCSpin.net, a countywide student journalism program in Contra Costa.
Colleagues in scholastic journalism were saddened by Nichols demise. "Casey was gentle and kind, and his great gift, as a teacher and as a friend, was the way he always empathetically listened," said Karl Grubaugh, former journalism adviser at Granite Bay High School. "Students loved him, in large part because he quietly helped them to believe in themselves."
Casey Nichols other great love besides teaching was baseball. "I loved talking with him about scholastic journalism, our families, the San Francisco Giants," Grubaugh said. "He was a good man, and I'll miss him very much."
Friends said that Nichols was full of life and humor and someone easy to work with who shared freely with other teachers and there students.
"We got a great job teaching teachers at high schools on American bases in Germany one summer," recalled Steve O'Donoghue, a former journalism adviser from Oakland who worked with Nichols several summer at a workshops for advisers and students at University of the Pacific. "He had the teachers in Germany eating out of his hand in no time. There was no one he couldn't entrance and help get better."
While still teaching full time Nichols volunteered through the JEA Mentor program and coached and advised new journalism teachers in Northern California to help them become better teachers. Friend and fellow journalism adviser Pete LeBlanc said "Casey will be missed as a journalism mentor, but more importantly, as a life mentor to students and friends alike. His kind soul is what we will all miss most."
After advising journalism at the middle school, high school and college level, Nichols ostensibly "retired" two years ago. He had produced 38 yearbooks in 36 years of teaching middle school and high school, Nichols lived in Rocklin, CA and continued to teach at the college level. He also served as an Ambassador for Jostens yearbook division consulting on all forms of journalism education.
On top of consulting, maintaining websites for Sacramento  School Beat and a countywide journalism program in Contra  Costs, Nichols returned to his old teaching digs at Rocklin High during the pandemic to help out his former school when a colleague there died unexpectedly and no replacement was easily at hand..
Casey Nichols was a superb teacher, adviser, mentor and friend to generations of Sacramento area students.
His staffs won nationally renowned Crowns and Pacemakers along with many state awards. Nichols was a former Journalism Education Association Yearbook Adviser of the Year, a National Scholastic Press Association Pioneer, a Columbia Scholastic Journalism Gold Key recipient, and a member of the Ball State University Journalism Hall of Fame.
Nichols also served as the JEA Awards chair. His passion was in storytelling in all forms.  he believed it took  great design to display great photos and compelling reporting  He believed design helped each staff create a better yearbook, easier.
Nichols taught at Eich Intermediate School in Roseville (which he also attended) for 11 years and Rocklin High School for 25. He continued to teach for Kent State University and Sierra Community College after he retired from classroom instruction. He is married. His wife Sarah Gliemmo Nichols also a high school media adviser (and current president of JEA), Nichols also left behind two daughters and a cat and countless friends and admirers in journalism and education.
In a bio he shared with others Nichols said that he loved teaching journalism because, "For me, it's all about finding and telling good stories that put the year in context. Some are as photos, some are written, some are direct quotes. Then we build a theme to help us frame the year and give us more and new ideas for how and what stories to tell. You polish it with good design to create a book your students want to own."
But Nichols was also all about quality: "It takes the same amount of work to do an average yearbook as a good one. It's all about the thinking, planning and processing," Nichols said. "How cool is it we get to literally write the history of our school?"
As friend, workshop roommate and fellow yearbook consultant for over 30 years Ray Slye points out, "One person can make a difference. Casey Nichols is an outstanding example of this simple statement. He made a difference in the lives of his students far beyond the classroom. He also made a difference in how his friends and colleagues became better educators and people for having known him. While Casey will be missed in person, his warm-hearted spirit will continue on through his students, friends and family."